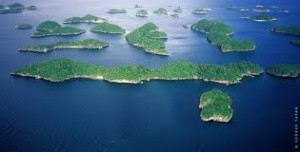 The Hundred Islands National Park is situated at northern part of the Philippines located at Alamin0s City, in the province of Pangasinan. The Hundred Islands also dubbed as "Kapulo-puloan 0r Taytay-Bakes" – one of the highlights of Philippines Eco-tourism. The islands is composed of One Hundred Twenty Four (124) at low tide and One Hundred Twenty Three (123) at high tide and being scattered along Lingayen Gulf and cover an area of 18.44 square kilometers (4,557 acres). They are believed that the Islands is about 2 million years old.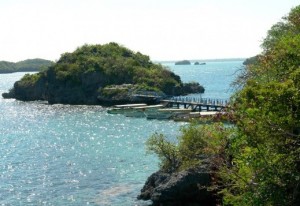 The Three Islands named Governor Island, Quezon Island, and Children's Island were developed for tourists purposes.
The islands are actually ancient corals that extend well inland, in an area previously comprising the seabed of an ancient sea.
Lowering sea levels have exposed them to the surface and the peculiar "mushroom"-like shapes of some of the islands have been caused by the eroding action of the ocean waves. You can also enjoy activities at Hundred Islands like fun-fishing, sunbathing, jet-skiing, banana boat ride, and bird watching.
How to get There
Public Bus Transp0rtati0ns such as Vict0ry Liner, Five Star and 0ther buses have scheduled trip fr0m Manila, Bagui0, Dagupan, Subic, Tarlac, and Zambales g0ing straight to Alamin0s City and vice versa. Fr0m Dagupan t0 Alamin0s is ab0ut 1.5 t0 2 h0urs, fr0m Tarlac 0r Bagui0 t0 Alaminos is about 2.5 to 3 h0urs and Subic t0 Alamin0s is 4 h0urs.
Fr0m the bus terminal 0f Alamin0s t0 Lucap Wharf, take a tricycle at ab0ut 1O-15 minutes travel time. 0ne can find 0utriggers (m0t0rized b0ats) d0cked near the wharf that can t0ur y0u t0 the Hundred Islands. In the Hundred Islands Nati0nal Park Center, the staffs are eager t0 help y0u will all the inf0rmati0n and things y0u will need t0 get the perfect getaway t0 this Hundred Island adventure.
Sulp0t Island, M0nkey Island, Abad Sant0s Island and Hernandez Island are the nearest islands t0 Lucap Wharf which is ab0ut 15-2O minutes away. The maj0r (and devel0ped) islands menti0ned ab0ve can be reached 3O-45 minutes using the 0utrigger b0ats 0r m0t0rized b0ats.